Bryn Mawr Custom Deck Builder
Premium Custom Decks, Porches & Sunrooms
Looking to build a dream deck and outdoor space for your Bryn Mawr home? At Stump's Decks, we can help you turn your dream into a reality. With us, you will have complete control over the layout, design, and options.
Our award-winning designers and experienced deck builders will listen to your goals, discuss options, and create a deck that you and your family will enjoy for years to come.
See why homeowners throughout Bryn Mawr and Philadelphia's Main Line trust Stump's Decks for their backyard projects.
Below, we've highlighted an open porch and pergola project we completed in Bryn Mawr.
"Stump's customer service was exceptional. The Demo and building teams on site were professional and took pride in what they were doing. We are so happy with the outcome and can't wait till the weather allows us to enjoy. Thanks team."
Bryn Mawr, PA
Open Porch Style Deck With Pergola
This Bryn Mawr homeowner wanted a space to entertain guests and to cook outdoors for family and friends. Their space includes a stone fireplace with TV mounted above it, bar-style seating for five, and a cooking area.
The built-in outdoor kitchen under a white vinyl pergola features a 44″ professional-grade grill, mini fridge, and storage space.
View Project
Wayne, PA
Capped Composite Deck
This low-maintenance deck features the Trex Transcend Capped Composite decking, which does a good job at mimicking the look of natural wood without the maintenance a wooden deck requires.
View Project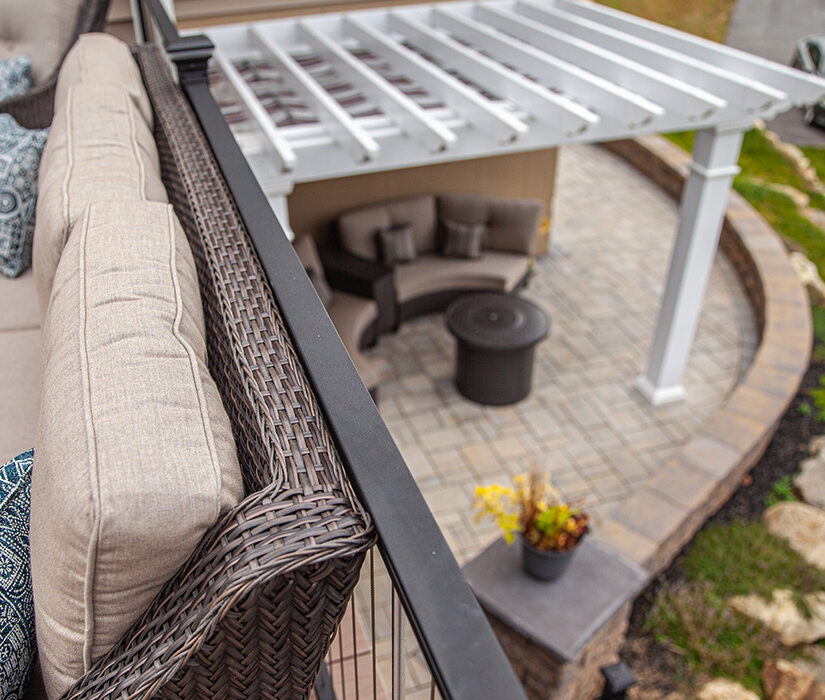 Why Choose Stump's Decks?
Creating or updating an outdoor living space is an investment in your home and your family's comfort. At Stump's Decks we care about giving your family both a space to build memories and building a quality deck that will add value to your home.
We now build more than 300 decks and porches every year – from Lancaster to Bryn Mawr and many other areas in Delaware County and Montgomery County.
But we are still a local, family-centered business. Our owners are out on the job every day making sure that our company values flow through our entire team, from helping a homeowner design their dream project to putting in the last screw.
Decking Brands We Recommend