Downingtown Custom Deck Builder
Premium Custom Decks, Porches & Sunrooms
Are you looking to upgrade your home's outdoor living space? We're been building custom decks and patios in Downingtown since 1994.
Below, we've highlighted two deck projects we've completed in Downingtown, including a covered deck with an outdoor kitchen and a deck with a screened-in area.
"Wow, excellent from beginning to end of the project. They assisted with generating ideas since we didn't know exactly what we wanted at first. They provided the estimate quickly and got us scheduled to complete the work more quickly than I expected. But most important, the quality of the work was exceptional. It is difficult to find quality workmanship but they exceeded my expectations. They replaced a decaying deck, added a pergola, and replaced old concrete patio and walkway with beautiful stamped concrete in exactly the color combination we envisioned. Highly recommend and we plan to use them again!"
Downingtown, PA
Covered Deck & Outdoor Kitchen
This homeowner in Downingtown was looking to expand their home's outdoor space. This project's highlights include a Provia stone fireplace as the centerpiece leading your eyes up to a cathedral ceiling with Special Walnut stained boards.
The fully-stocked outdoor kitchen features a 44″ professional-grade stainless steel grill, mini fridge, and a charcoal smoker.
View Project
Downingtown, PA
Old Concrete Patio Replaced With a Custom Deck
It was important to the homeowner that the new deck expansion looked original to the home, so our team worked diligently to match the shingles, siding, and trim pieces to perfectly blend with the existing structure.
View Project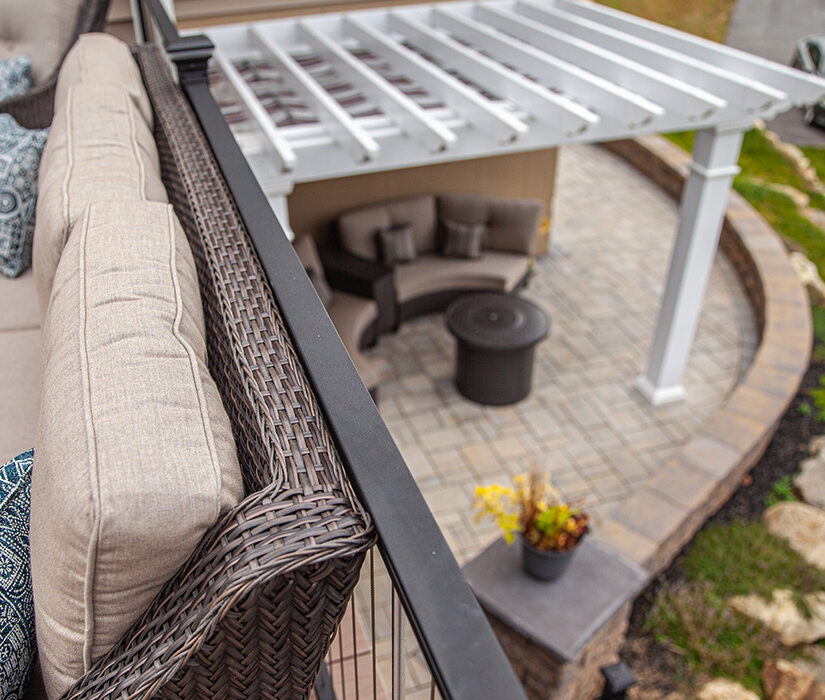 Why Choose Stump's Decks?
Creating or updating an outdoor living space is an investment in your home and your family's comfort. At Stump's Decks we care about giving your family both a space to build memories and building a quality deck that will add value to your home.
We now build more than 300 decks and porches every year – from Lancaster to Downingtown and many other areas in Chester County.
But we are still a local, family-centered business. Our owners are out on the job every day making sure that our company values flow through our entire team, from helping a homeowner design their dream project to putting in the last screw.
Decking Brands We Recommend